Ty's Top 5 Picks of Round 2
5. Devon Still: 6-5/310 lbs. DT Penn St.
The Bengals already had the number four all around defense last year, and picking up Dre Kirkpatrick in the first round, and Devon Still in the second only adds more flare to this solid defensive unit. Devon Still was a late first rounder in my opinion, he plays well to the sidelines on passes to the flats and he is hard off the snap as a pass rusher. Devon will need to learn to shed blockers with his hands better in order to excel at the next level, but all in all the Bengals scored a solid defensive tackle a round later then I thought, look out for that Bengals defensive unit for the second year straight.
4. Ryan Broyles: 5-10/192 lbs. WR Oklahoma
I know I know, I questioned this pick just as much as the next guy does. As a Lions fan, I was worried that someone let Matt Millen back in the office. I really like Dwight Bentley's potential as a cornerback, but I thought maybe they would address the cornerback position earlier, like with the second round pick that they spent on wide receiver Ryan Broyles. But with a deeper look into this selection, I really began to agree with it. After Calvin Johnson the receiving talent starts to dip quite drastically. The Lions next top target is big bodied TE Brandon Pettigrew and then Nate Burleson. I think Titus Young will continue to improve, but Broyles will be yet another reliable option at wide receiver and will be great for underneath routes with Calvin Johnson looking up top for the deep ball. Broyles has questionable size and yes there is still question around how healthy he will remain after having season ending surgery in November due to a torn anterior cruciate ligament. I think the only thing that will never be in question is Broyles hands, as he is the NCAA's career leader in receptions. Broyles has that big play kind of vibe and is exactly why he will be a key addition to a Lions receiving unit that after Megatron, could use some more weapons.
3. LaMichael James: 5-8/195 lbs. RB Oregon
James rushed for over 5,000 yards and added an outstanding 53 touchdowns at his career in Oregon. James is relatively undersized for an every down back, but what James does is adds that homerun factor every time he will touch the ball. I would compare James addition at the pro level comparable to a Darren Sproles, and with the 49ers already having a deep crop of runners James will really work into the rotation well and make the 49ers even that much more dangerous. Drafting an athlete like LaMichael James also takes even more pressure off of quarterback Alex Smith whom I still strongly question as a legitimate quarterback. San Francisco is a hard working fundamental team and if it isn't broke, don't fix it; San Fran received a big bang for their buck waiting in the second round.
2. Courtney Upshaw: 6-2/265 lbs. LB Alabama
Was anybody as shocked as I was when Courtney Upshaw fell to the second round? My mind was blown, and I think Courtney's was as well, which is scary, can you imagine this guy playing with a chip on his shoulder? Man oh Man. Upshaw has good quick draw quickness of the snap, he reads the quarterback's motions very well and is pretty fast for his size making plays side to side. At the pro level Upshaw's position may be up for debate as to where Baltimore will use him, but the fact that Baltimore nabbed him at all is amazing to me. Their could not be a better fit for a young talent like Upshaw, with teachers like Terrell Suggs and Ray Lewis, as well as defensive minded leaders in Ed Reed. Courtney Upshaw will feel right at home surrounded by talent in Baltimore and will be causing quarterbacks headaches by week three.
1. Coby Fleener: 6-6/235 lbs. TE Stanford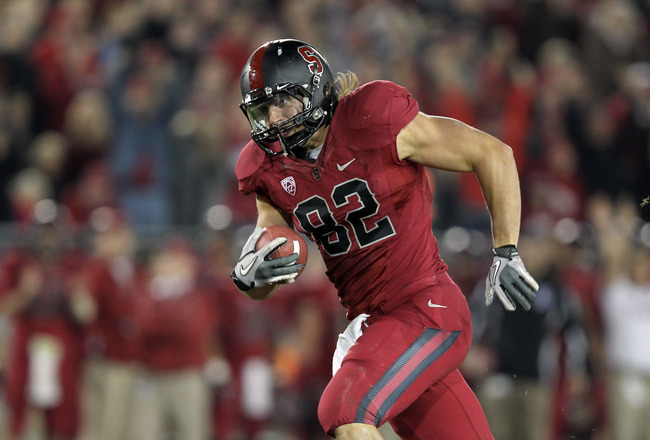 I was thoroughly impressed with the Colts draft class solely for the reason of picking up tight end Coby Fleener. What a better way to not only land the top two tight end prospects in the draft in back to back picks (Dwayne Allen, Clemson) but snatching Andrew Luck's number one target at Stanford? Priceless. Fleener really broke out in his senior season with 32 receptions, 648 yards, and count them, 10 touchdowns; all career highs for the Stanford standout. Who threw Fleener all of those receptions and touchdowns? Mr. Luck himself. Fleener has reliable hands, makes for a big target, and blocks exceptionally well especially down field. Although  Fleener is not the most overwhelming athlete, he is intelligent and strong enough to know how to use his tangibles to his advantage every down. One scout was quoted saying "He (Fleener) will likely have to adjust without quarterback Andrew Luck." Wrong sir. That is why the Colts were genius, giving their number one draft pick a very familiar target. The Colts look to be building some sort of New England Patriots type scheme with two versatile tight ends and a pound for pound pocket passer. Also, for all of us fantasy gurus, I think Coby Fleener has some of the highest fantasy value come this season.
That's an Automatic First Down.
Ty
Follow me on Twitter @Ty_HiDef_Hines