Ty's Top 5 Picks of Round 1
5. Shea McClelln: 6-3/255 lbs. DE/OLB Boise St.
photo credited to chicagonow.com
I loved this pick to the Bears at 19 in the 1rst round. The only reason I can think of that I wouldn't like it is for the fact I am a Lions fan. But let's face it, the Bears made it to Super Bowl 44 with a bold and aggressive defense. Last season Chicago's defense allowed 350.4 yards per game that was good enough for 17th in the league. Teams like Jacksonville, Miami, and Cleveland were all ranked much higher to put that into perspective. Let's face it, Brian Urlacher is not getting any younger, that's why it was best for the Bears to address this position. Shea McClellin was relatively underrated or under hyped in my opinion. The kid has good size, versatile enough to play both outside linebacker and defensive end. He also has an incredible motor; I cannot stress that enough, very competitive and hard working, will fit perfectly in the NFC North. Some had Shea projected 2nd or 3rd round, that's why I feel the Bears landed a gem late in the first.
 4. Justin Blackmon: 6-1/207 lbs. WR Oklahoma St.
photo credited to
http://sports.yahoo.com/nfl/news?slug=nfp-20120310_is_oklahoma_state_wr_justin_blackmon_now_a_top_5_pick
 Blaine Gabbert's top two targets last season were Laurent Robinson with 54 receptions, and Mike Thomas with 44. Aside from that, Gabbert spent most of his time scrambling or ending up on his backside as he was sacked forty times. The Jags finished 5-11 and need a lot of help, but they did finish 12th in rushing. Maurice Jones-Drew is the exact reason why I really liked seeing the Jags jump two spots to go and get the number one wide out in the draft. Mojo is still a top five rusher and a team needs that to set up the play action which is exactly what the Jags will do. Justin Blackmon will play instantly in Jacksonville. Taking a receiver this early in the draft, you are really going to use him, early and often. Blackmon does not have elite speed but is still a lot faster than given credit for; watching film of the OSU stand out you will never see him caught from behind. A big bodied, strong receiver with very reliable hands, Blackmon sees the ball well and will go get it in tight situations. Justin Blackmon is on my radar for one of this year's rookies to have the most instant of impacts, Gabbert's new number one target.
3. Nick Perry: 6-3/250 lbs. DE/OLB USC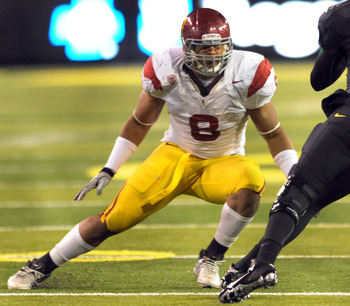 Photo credited to http://cdn.bleacherreport.net/images_root/slides/photos/002/008/461/133864488_display_image.jpg?1331267913
 This pick shocked me. I could not help but shake my head and smile when the Packers called Nick Perry's name at the 28th pick. Someone really should have paid attention; the already powerful Packers used this draft to possibly push them to new heights. I think most of my shock came from the fact that Packers GM Ted Thompson was very aggressive in this draft defensively, in an attempt to get back to that Super Bowl caliber team from two seasons ago. The Packers were carried through the season by that Aaron Rodgers led high power offense, but the defense was ranked dead last in yards allowed with 411.6 per game. Adding Nick Perry was genius. Perry has good quickness and is a strong pass rusher, can also change direction on a dime. For Perry's lack of size, Dom Capers might move him to line backer opposite Clay Matthews where he would start instantly.
2. Brandon Weeden: 6-4/220 lbs. QB Oklahoma St.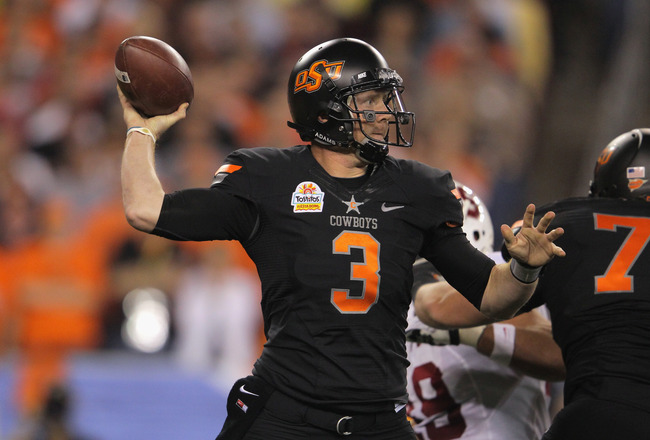 Photo credited to http://cdn.bleacherreport.net/images_root/images/photos/001/641/149/137238391_crop_650x440.jpg?1333506544
Move over Colt McCoy and Peyton Hillis. Many people may disagree with how highly I have this pick ranked, but it's hard not to get excited about what Cleveland has brewing in their cauldron. Colt McCoy threw for 2,733 yards and 14 touchdowns last season leading Cleveland to believe maybe McCoy was not their guy.  In Weeden's last two seasons at OSU he eclipsed the 4,000 yard mark in both years and added touchdown totals of 34 and 37 respectively. Weeden is a big strong built quarterback, sort of reminds me of Ben Roethlisberger only less mobile. Many scouts complained about Weeden's age and I will admit I did as well, but the guy is only 28, turns 29 in October, it's not like he's 40. Also in question are Weeden's footwork, and his ability to throw on the run or off balance. My rebuttal for lack of mobility would be comparisons to elite passers like Tom Brady and Peyton Manning, if you have the soft touch on red zone fades and can hit any receiver across the middle you don't have to be fast. Not to mention the fact that Cleveland did what so many teams missed out on by scooping up the best running back prospect of the past decade in Trent Richardson. If anybody questions Brandon Weeden's passing ability, why don't you just ask Justin Blackmon what he thinks? Bold prediction, Brandon Weeden will finish closely for offensive rookie of the year. Yes I said it, let the hate comments begin.
1. Luke Kuechly: 6-3/235 lbs. LB Boston College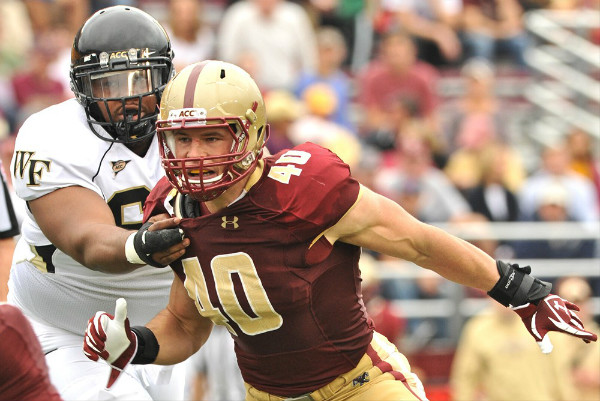 Photo credited to
http://cdn.bleacherreport.net/images_root/article/media_slots/photos/000/309/255/luke-kuechly-full_original.jpg?1327036752
 Finally, my favorite pick in round one of the 2012 NFL Draft, the Carolina Panthers at the nine spot taking linebacker Luke Kuechly. I think the Panthers might have landed the most football bred player in the whole draft. Kuechly has priceless instincts and anticipation as well as good speed and hands. I don't think one will find a defensive player in the draft that locates the ball in traffic better either. Kuechly reminds me of a Brian Cushing type, only he head butts people less and is not quite as athletic. I think too many scouts get caught up on God given athletic ability and pay less attention to hard work, and that's exactly what Luke Kuechly is, a hard working football player. The Panthers are trying to revamp a defensive unit in shambles that was once considered one of the best, adding this tackling machine from Boston College is their best bet at doing so. Luke Kuechly will be your stat stuffing defensive rookie of the year.
If you can't wait for the NFL season than that's an Automatic First Down.
Ty 
 Follow me on Twitter @Ty_HiDef_Hines